The Town of Milestone offers many options for paying taxes, utilities or other invoices, such as:
Banking Online: Set up the Town of Milestone as a "payee." Be sure to search "Milestone" and choose "Milestone (Town of)." Choose "Tax" or "Utilities."  Enter your account number, roll number or invoice number.  If you are making a one-time payment such as (use the following accounts and choose utilities);

Swimming lessons – 1111
Development and Building Fees – 2222
Cemetery Fees – 3333
General Office Fees – 4444
Bulk Water Fees – 5555

OptionPay: A secure way to pay using your credit card.  Click HERE to be taken to the OptionPay page.  Fees Rates for OptionPay – Click Here
Pay at the Bank: Bring your tax notice or utility bill and pay at your financial institution.
Interac/Debit: Available by attending the municipal office during business hours.
Drop a cheque in the mail slot: A secure mail-drop slot is located at 105 Main Street on the main office doors.
Mail your payment: You may also mail your payment to PO Box 74, Milestone SK.  S0G 3L0.
Pre-Authorized Debit: The Town can withdraw funds for taxes and utility payments from your account.  For more information or to sign up, call (306) 436-2130 and click here: Fillable – Pre-Authorization Agreement.
E-transfer is not available at this time.
Where do I find my Tax Roll Number?

Where do I find my Utility Account Number?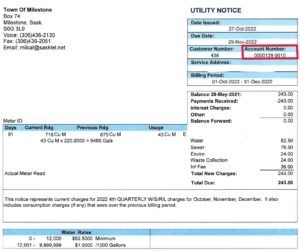 How many digits do I need for my account number?
Taxes:
BMO – 4 digits
Scotia – 5 digits
Credit Union, CIBC, TD Bank & RBC – 6 digits
Add zeros to the end of your account number until you reach the required digits.  i.e. 290000
Utility:
Credit Union – 3 digits
BMO & Scotia – 3-4 digits
CIBC & RBC – 10 digits
TD – 11 digits
Add zeros to the beginning of your account number until you reach the correct amount of digits.  i.e. 00000000139