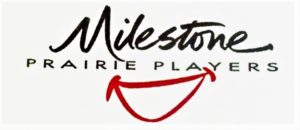 Milestone Prairie Players is a non-profit community theatre troupe. We have been providing live theatre entertainment to the area for 40 years. We are most known for our dinner theatres, which are done in conjunction with the Local Elks Club and the entire community's help. These were discontinued in 2020 due to Covid-19; however, we hope to have a return in a new form in 2024.
We have won many provincial awards for excellence in community theatre.
Though we are based in Milestone, our members are from the surrounding communities, including Wilcox, Lang, Yellowgrass and Gray. We always welcome new members, with or without previous live theatre experience.
For information, please contact:
Shelley Sentes: [email protected] or 306-539-3044
Lisa May: [email protected] or 306-203-4491
Kayla McKay: [email protected] or 306-436-7287
Stefanie Harrington: [email protected] or 306-304-7721
Facebook: https://www.facebook.com.prairieplayers/